Heavy Truck Towing Woodburn, Canby, Wilsonville & I-5 OR.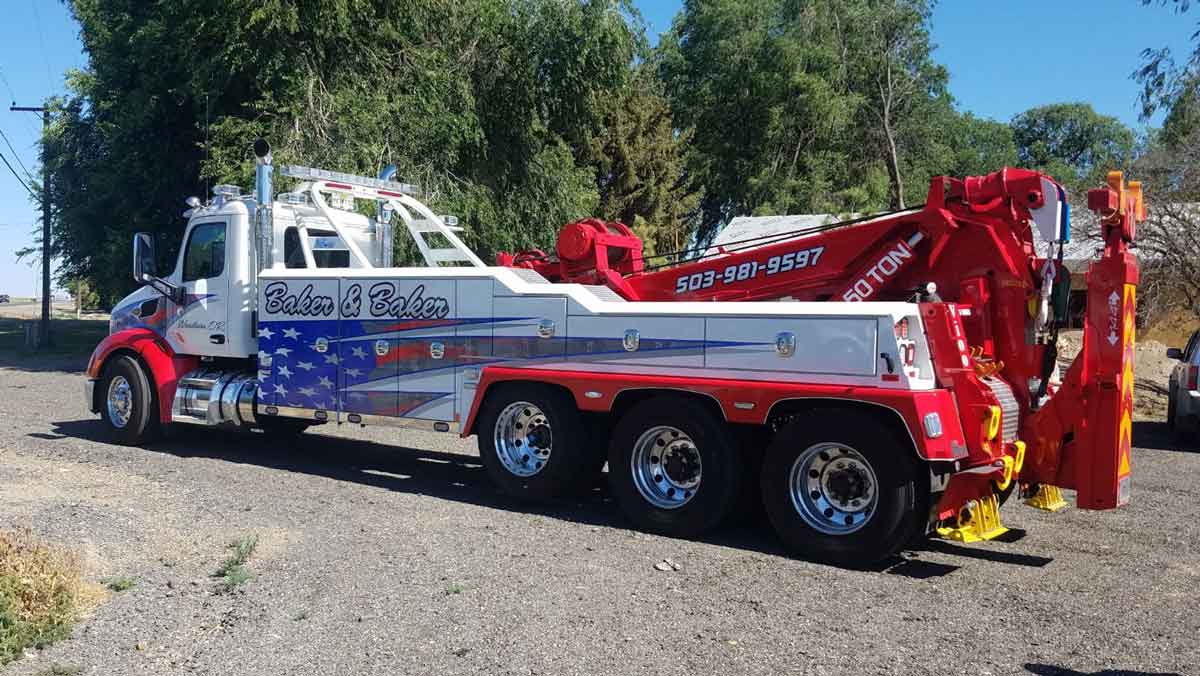 A Woodburn heavy towing company, Baker & Baker Towing & Crane Service provides heavy truck towing services not only to Woodburn but to Canby, Wilsonville, South Portland and along I-5. Our team has undergone specialized technical training by the American Towing & Recovery Institute. Their training combined with their decades of experience in heavy duty towing and heavy recovery make our heavy towing operators the best in the area. No job is too big for Baker & Baker!
Our fast response heavy towing operators are certified by the American Towing & Recovery Institute and have the knowledge to recover and tow your asset as quickly as safety allows ensuring you're back on the road ASAP. We provide heavy towing services for all types of trucks including semi trucks, box trucks, straight trucks, utility trucks, and more! Our heavy towing services don't stop with trucks; we can move and haul heavy machinery and specialized machinery. Call our Heavy Duty Towing Dispatch Line at 503-981-9597.
Our heavy duty towing services include, but are not limited to:
24hr Heavy Truck Towing
Semi Truck Towing and Recovery
Work Truck Towing and Recovery
Utility Truck Towing and Recovery
Jack-Knifed Trucks
Tractor-Trailer Towing and Recovery
RV Towing and Recovery
Bus Towing and Recovery
Medium Duty Towing and Recovery
Delivery Truck Towing and Recovery
5th Wheel Trailer Towing
Semi Trailer Towing and Recovery
City Bus Towing and Recovery
Farm Equipment Towing
Construction Equipment Towing
---
Baker & Baker Towing and Crane Service is the expert is heavy truck towing and recovery in Woodburn and Central Oregon. Our team are professional problem solvers. Their decades working in the heavy duty recovery field have them ready for any situation. Their skills and expertise combined with the high tech Baker & Baker heavy duty fleet make them the obvious choice for heavy duty towing in the area. Get the job done right the first time, call us 503-981-9597. One of our heavy duty towing dispatchers is on standby waiting for your call.