Oregon Towing Service Assists Beaverton Construction Company
Baker & Baker Towing Service was happy to help a Beaverton construction company in May. The company was building a new warehouse and were using large, heavy beams to complete the frame of the structure. Knowing that we also offer crane services, the company reached out to our team.
The towing service team arrived on schedule at the construction site. It was a beautiful day with not one cloud in the sky. The crane operators coordinated with the construction crew to plan the logistics. The crane operators would need to lift the beams into the air and hold them in place.
Once the beam was stabilized, the construction team would be lifted up using a reach forklift. The crew would then secure the beams in place. They repeated this process for over five hours!
Safety is always Baker & Baker's number one priority. In order to safely lift the beams, they had to reset the crane's outriggers before each lift. This guaranteed optimum stability and safety! By the end of the day, all the beams were in place and the warehouse started to look like a real building!
Great work out there team!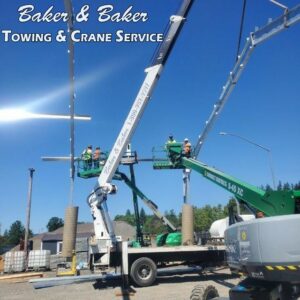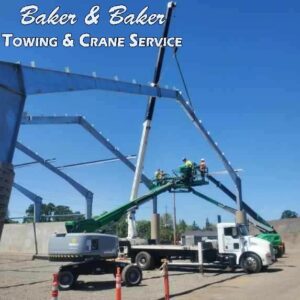 Details of Oregon Towing Service Assists Beaverton Construction Company
The dispatch team at Baker & Baker Towing Service received a call from a Beaverton-based construction company. The construction company needed a towing service team to lift beams. The towing service team was dispatched from 2874 Newberg Highway, Woodburn, OR 97071. The quickest route to the customer was via the I-5 N. The towing team took their crane to the job site.
The towing company team took the I-5 N and then took exit 2A from OR-217 N. The tow truck team then continued on OR-10 W, driving to SW Lombard Ave.
When they arrived at the construction site in Beaverton, OR, the towing service team assessed the situation. The contractor debriefed the towing service. They needed to lift several beams that were going to make up the frame of the new warehouse.
The heavy towing team found two points of contact on the first beam. Prior to lifting, they set their outriggers to ensure that the crane would remain stable during the lift. The towing company lifted the first beam into position.
The crane service team stood by as members of the construction crew were lifted into the air using a reach forklift. The construction workers secured the beam into place as the towing service supported its weight.
Once the beam was secured into place, the whole process was repeated for the other beams. Between each beam, the outriggers needed to be reset. The towing company was at the construction site for five hours in order to safely complete the job.
With the job completed, the towing company team made their way back to Baker & Baker headquarters in Woodburn, Oregon. They cleaned the crane and ensured that it was ready for it's next job!