RV Towing Winnebago from Auction Lot
Baker & Baker's RV towing team was able to help a man on a mission. A dirty, dusty, broken down Winnebago was sitting in the auction lot at Copart in Woodburn, OR. Ask anyone in the industry but this vintage of Winnebago has a terrible reputation. No one really wants to buy them and they have become extremely hard to dispose of! 
A man in Kentucky apparently did not care about the popular opinion. Once he set his eyes on this Winnebago, he immediately had dreams of glorious road trips and adventures. He put a bid on the Winnebago and won! Now only one thing was standing in between him and his dream, the Winnebago in question … it didn't run! 
This just made the dream more exciting for the new RV owner. His new plan was to fly into Woodburn, fix up his new RV, and drive it back to Kentucky! Then the awesome adventures could begin! When asked what his family thought of his new fixer-upper, the man said they were happy he was putting his money and energy into RVs instead of casinos!
The client enlisted our help to tow the 1987 RV out from Copart. The RV towing team did some research and found a nearby parking lot where the man could work on his RV. The parking lot was a short distance from an auto parts store … and he would definitely need to buy a lot of parts! 
Fantastic work out there team! You helped a man get one step closer to his dream!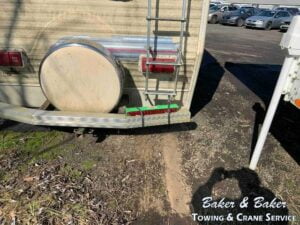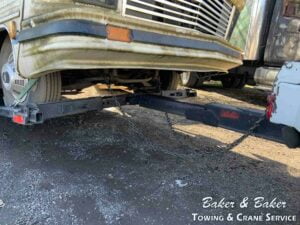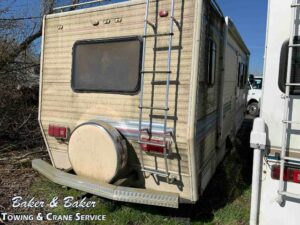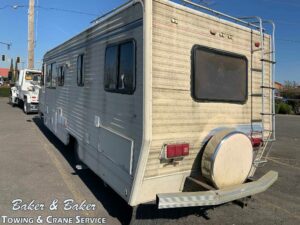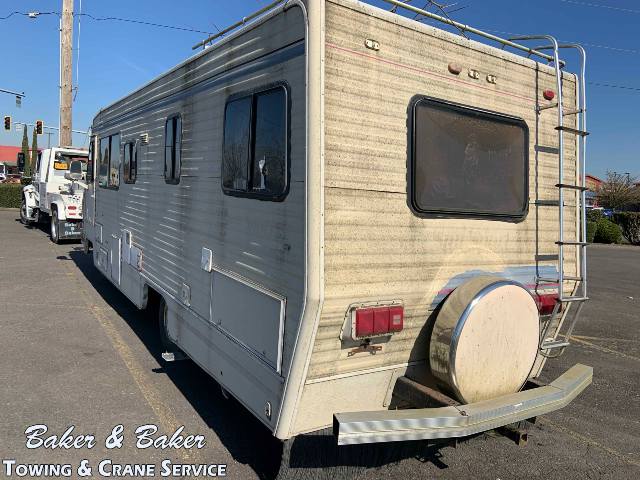 Details of RV Towing Winnebago from Auction Lot
The dispatch team received a call from a customer looking for RV towing services in Woodburn, OR. The client had just bought a 1987 Winnebago from Copart and needed an RV towing team to help him move it. A towing team was dispatched from 2874 Newberg Highway, Woodburn, OR, 97071. They made their way to the Copart located at 2885 National Way via OR-214 S. 
After a short 3 mile drive, the RV towing team arrived at Copart to pick up the Winnebago. Prior to moving it, they discussed with the client where he would have like to have it towed. The client was from Kentucky and needed a place where he could keep the Winnebago overnight as he worked on fixing it. 
The towing team made some calls and found a nearby parking lot that the man could stay in. Once they knew where it was going, the RV towing team backed up their medium duty wrecker towards the front of the RV. The Woodburn RV Towing team used their wheel lift on the front tire of the RV. The towing team disconnected the driveline and hooked up onto the RV. 
Afterwards, the RV team hooked up tow lights onto the back of the RV. With the final safety check complete, the RV team towed the 1987 Winnebago to a nearby parking lot.